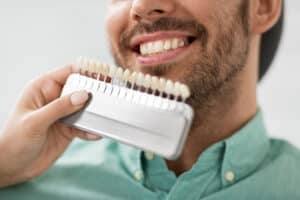 You don't have to be born with a perfect smile – you can get one with porcelain veneers.  Dr. Brian D. Valle, P.A., offers veneers that are beautiful and durable. In as few as two visits, we can give you the smile of your dreams. Our veneers are made from the highest quality materials and custom-made to fit your teeth perfectly.
What Are Porcelain Veneers and What Do They Do?
Veneers are an affordable way to achieve the beautiful smile you've always wanted. They are thin shells of porcelain that cover the front surface of your teeth. They provide a uniform and attractive smile and are an excellent alternative to orthodontic treatment.
How Are Dental Veneers Made?
Dental veneers are made from high-quality porcelain. They are custom-made in a lab to fit your teeth so we can bond them to the front surface of your teeth.
Who is a Good Candidate for Veneers?
Veneers are an excellent option for anyone who wants to improve the appearance of their smile. We can use them to correct a wide variety of cosmetic dental problems, including:
– Discolored or stained teeth
– Chipped or cracked teeth
– Worn down or misshapen teeth
– Gaps between teeth
The Benefits of Getting Porcelain Veneers
There are many benefits of getting porcelain veneers, including:
– Veneers can give you a beautiful and uniform smile.
– Veneers are durable and can last for many years.
– Veneers are an affordable way to improve your smile.
How Much Do Veneers Cost?
The cost of porcelain veneers varies depending on the number of teeth we treat and the type of veneers used. We strive to give all patients an accessible and affordable dental care.
During your consultation, we will thoroughly assess your dental structure and assist you in developing your cosmetic goals, including providing realistic pricing estimates for your veneers. 
What to Expect During the Porcelain Veneers Procedure
The dental veneer procedure usually takes two visits to our office. During your first visit, Dr. Brain Valle will take impressions of your teeth and prepare your teeth for the veneers. Preparing your teeth involves removing a small amount of enamel from the front surface of your teeth. Removing the enamel is necessary to ensure that the veneers will fit properly.
The second visit is when we bond the veneers to your teeth. We place the veneers on your teeth, and then a special light is used to harden the bonding material. You will then be able to leave our office with a beautiful new smile!
The Recovery Process After Getting Dental Veneers
After getting dental veneers, it is essential to take care of your teeth just as you would if you didn't have them. Taking care of your teeth means maintaining good oral hygiene and visiting your dentist regularly for cleanings and checkups.
Alternatives to Dental Veneers
There are many alternatives to dental veneers, including:
– Dental Crowns: Dental crowns are an option for patients who want to cover up more than just the front surface of their teeth. We can use crowns to cover the entire tooth, making them an excellent option for patients with damaged or misshapen teeth.
– Dental Implants: Dental implants are an excellent option for patients missing one or more teeth. We surgically place implants in the jawbone, and then a dental crown is placed on top of the implant.
– Orthodontic Treatment: Orthodontic treatment, such as braces or Invisalign, is an excellent option for patients who want to straighten their teeth.
A Perfect Smile With Porcelain Veneers
A beautiful smile is one of the most important features of your appearance. With our veneers, you can achieve a perfect smile in just a few short visits. You'll love how confident you feel when you flash your new smile for the world to see.
Schedule an appointment today for a consultation on veneers.