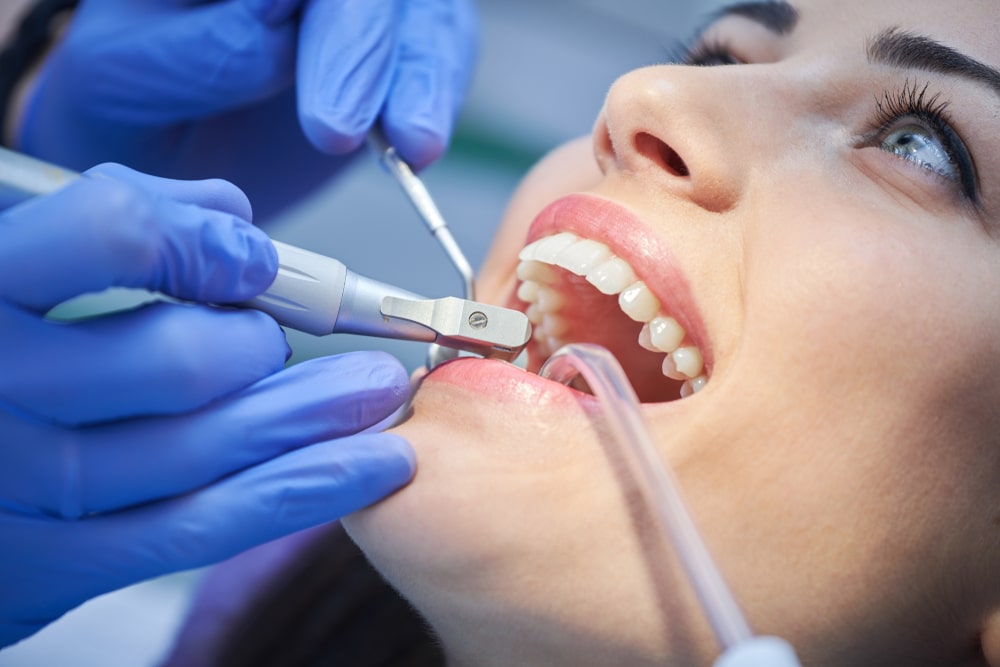 Dental cleanings typically happen every six months, and for a good reason. Most people with dental infections, oral cancer, or cavities don't realize they have them! With dental cleaning, we identify issues early and prevent future ones. Dental cleanings in Millersville, Maryland, have never been of higher quality. 
At Dr. Brian Valle P.A., your teeth are in phenomenal hands. Dr. Brian Valle is a professional dentist boasting over 30 years of professional experience. Schedule an appointment today. 
What are Dental Cleanings? 
Dental cleanings are bi-annual dental appointments that check, clean, and strengthen the teeth. These regular checkups are vital to preventing future problems, catching cavities early, and whitening your teeth. With Dr. Brian Valle, you can access international talent with our first-rate dental cleanings.
What are the Six Steps of Dental Cleanings? 
Every dental cleaning has at least six steps. There may be more or less depending on your needs: 
Oral Exam.

We start by looking around the mouth. Is there inflammation, decay, or any apparent problems? We may use a small mirror or an X-ray. 

Scaling.

Scaling prevents gingivitis and gum disease. We'll remove plaque and tartar around the gumline. 

Deep cleaning.

Our professional teeth cleaning uses a particular type of toothpaste called prophylaxis paste. Often, you're able to choose the flavor. While grainy, it polishes and scrubs the teeth like a charm. 

Professional flossing.

Flossing will remove any residue waste, plaque, and paste. 

Rinsing.

Next, we rinse out the mouth from any tartar residue. Rinsing may include a water spray or a liquid fluoride solution. 

Fluoride treatment.

Our fluoride gel will prevent cavities, strengthen the teeth, and whiten the smile. With this final step, we'll send you home with a fresh, white smile. 
Benefits of Regular Dental Cleanings: 
There are enormous benefits to regular dental cleanings: 
Prevent cavities.

Cavities, also known as tooth decay, are prevented with regular dental cleanings. We remove acidic plaque that builds over the tooth and dissolves the enamel over time. 

Whitens teeth.

As we remove plaque, tartar, and surface stains, we visibly brighten each tooth. At the end of your dental cleaning, we'll apply fluoride to whiten your teeth and protect them from future cavities. 

Prevent gum disease.

Plaque build-up often leads to gum disease and gingivitis if left to rot. We'll examine the gums for unwanted oral bacteria with each dental cleaning. Removing gum plaque will also freshen your breath. 

Early detection

. We can spot issues a mile down the road with X-rays and dental examinations. Root infections, gingivitis, root canals, cracks, and other issues can become more severe and time-consuming if left untreated. 

Improve oral health.

A dental cleaning is often a "fresh start" for your teeth. We remove toxic bacteria, scrap off built-up plaque, and whiten the teeth. You'll look and feel great. 
Do Dental Cleanings Hurt? 
No! Regular dental cleanings are safe and standard. If an issue is causing pain, we'll identify the source and treat it as soon as possible. Unless a tooth is already experiencing pain, a dental cleaning won't hurt.  
Commonly Asked Questions
FAQ about regular dental cleanings: 
How often should I have a dental cleaning?

Every six months. 

Can dental cleaning damage teeth?

No.

Can dental cleaning prevent cavities?

Yes. 

Can I get a dental cleaning with braces?

Yes. 

Can dental cleanings cause infection?

No. 

How long does a dental cleaning take?

Roughly 30 minutes.
Dental Cleanings in Millersville, Maryland
At Dr. Brian Valle P.A., everything we touch turns to gold. With the finest dentists available, our services are unmatched. Our fantastic team backs up Dr. Brian Valle in every visit and has your best interests at heart. 
Schedule an appointment today and thank yourself tomorrow.